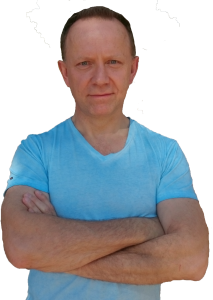 A Fitness and Wellness Leader, Trainer and Speaker, and founder of Timeless Bodies and the Eves Regeneration Method – a unique fitness and wellness system that regenerates the body, boosts biological function and dramatically improves fitness levels to make one feel stronger, happier and years younger.
He is a renowned expert in the field of natural fitness and wellness, alumni of the Monkey Bar Gym (US) under the mentorship of Jon Hinds (one of the world's foremost strength and conditioning coaches), and was instrumental in bringing the giant Curves fitness franchise to South Australia. Over the years he has helped literally thousands of people to get fit and healthy.
Colin is also a highly engaging and energetic speaker. Often contrarian, invariably provocative and yet always thought provoking, his talks inspire and motivate others to keep growing, become more and transcend their current experience.
His book – "The Play Time Solution" – is due for release in early 2018.
In his spare time Colin enjoys gymnastics, kettlebell training, riding his motorbike, kite surfing and gazing at the stars while pondering the meaning of life (though not necessarily all at the same time). He lives on 20 idyllic acres with his wife and 2 young children, and between them they are lucky enough to have a few horses, a cat, a dog, and a crazy cockatiel called Wee Wit.